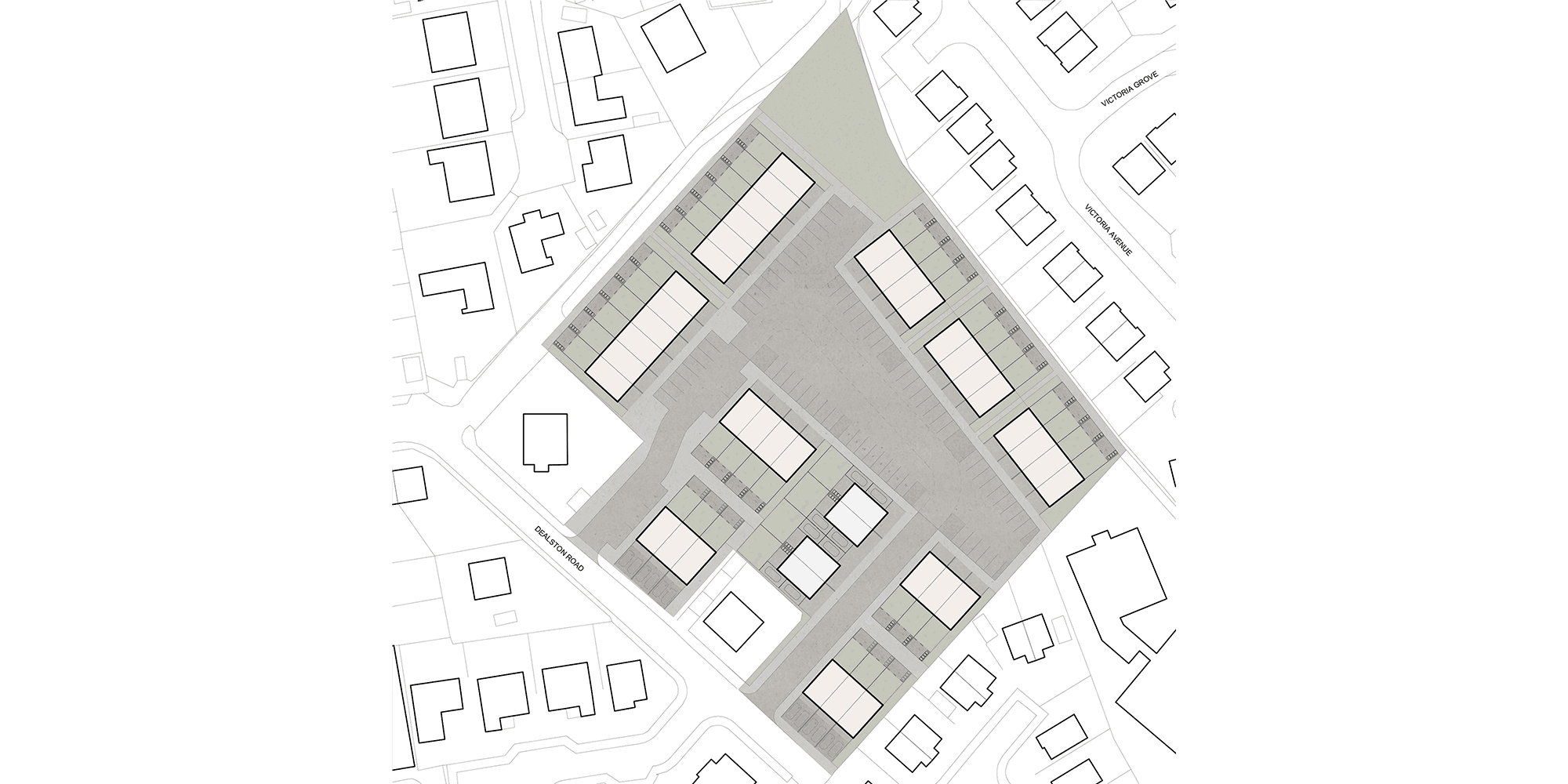 Dealston Road Barrhead
Our ambition for the proposed Dealston Road project was to create a high quality residential development that was both sympathetic to, and celebratory of, the history of the area and the site itself in particular.
The site has gone through a number of iterations over the years including its former use as the Ferenze Laundry- a significant local employer before its demolition in the 1970s.
This historic and recent association with industrial buildings and the laundry in particular on the site is something we were keen to express in our design for the new development.
In terms of existing housing, the prevailing types found near the site are terraced blocks of 2-3 stories in height, and we are proposing this as the model for our own development too. Using flexible house types which we have developed especially for this project, we are able to provide a mix of 2 and 3 bedroom family homes which use the same base footprint allowing the development to potentially respond to market demand.
Our scheme proposes a monochromatic palette of white finishes including facing brick, precast concrete cills, glazed brick feature panels, doors and windows.
In the historic photos of the laundry, it was interesting to see the abundance of large wicker baskets used for containing the laundry, and we have incorporated that into our design with the proposed woven-wicker finish to the upper floor juliette balconies.
The form of our proposal consists of terraced row houses-featuring dormered roof profiles and round porthole windows. This alludes to both the formal consistency of historic housing found in the local area, and also some forms typically associated with industrial buildings which previously existed on the site.
The buildings are proportioned using a systematic approach which uses a series of dimensions with typical human scale as the base generator.
Location: Dealston Road, Barrhead, Glasgow
Client: Urban Union
Size: 41Units
Status: Bid Stage 2018